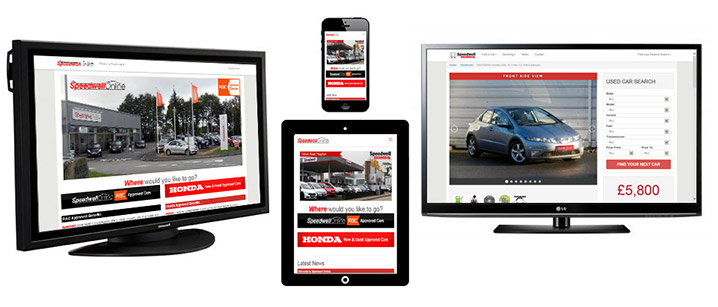 Speedwell Online
Created for Speedwell Online, a local car dealership over in Kingsteignton, Newton Abbot. This website design is a responsive car dealer portal giving the choice of visiting either Speedwell Honda or Speedwell Online which is a non franchised car dealership selling makes and models of all brands. 
The website was designed to make it easy, with fewer clicks to find a car and to also automate the task of uploading vehicles and images to multiple websites. It is actually populated by a comma separated file that first gets exported from two different systems for the three separate dealerships, and it then is sent to a feed supplier which then uploads to autotrader etc and then finally back to this website again which then populates a database and keeps it up to date with daily feeds. Some parts of the description are generated automatically using a technique called spintax.
I also created the brand logo they use over at the car dealership in Kingsteignton, Newton Abbot. Please see my logo design page if you need a company logo designed.